VIP Branded Virtual Team Building
Have your own custom virtual teambuilding programme!
We run the world famous Live-Avatar online escape rooms, loved by thousands of companies from over 50 countries.

Now we can create your own branded games!
WHAT ARE LIVE-AVATAR ONLINE ESCAPE ROOMS?
Live-Avatar Online Escape Rooms
Live Avatar Online Escape Rooms are a new generation of escape rooms that are exactly like physical escape rooms, but can be played from anywhere in the world via a Zoom call. The Game Master is the team's Avatar, who's physically in a real brick and mortar escape room. Thanks to a live cam, the Game Master acts as the eyes, ears and hands for each team, as he folows their directions.
60 minutes game length
Fun Factor 10/10
4.96/5 based on player reviews
Recommended by Amazon, Apple, Goolge, Nike and many more
9 different superfun themes
Step 01
Join a Zoom call with your mates - even from different locations!
Step 02
Our game master is at the venue. Your task is to guide and control her for up to 60 minutes.
Step 03
Cooperate with your friends and try to solve the mysteries by collecting clues!
What we give
We hand you your own branded Team Building system for Live Avatar online escape rooms:
We create a website branded for your company. (Logo and colours of your brand)

The site contains

Information about the games
A professional booking system (for easier organizing)
A game interface with your company logo
Confirmation email tailored to your needs

This whole system can be integrated into your own website on a sub-domain (or can run totally free on any choosen domain)
All the work (development, setup, operation) is organized and done by us. Sit back and relax as we do the heavy lifting
Enjoy your own new supercool branded programme with your employees and partners.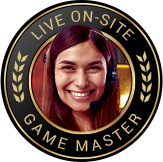 This is a remote adventure where players control
our real on-site game master. This is not software!
How it works
Price is 30 EUR/player
There is a setup cost which depends on the companies needs. This whole amount can be used as game credits
Games are played in 6-12 person groups
13 games can be run parallel, so 150+ players can play at once
Once you have your own custom system, you can use it for as long as you wish
The bookings can be used as you wish, either by anyone in the company, or only by HR when they organize the teambuildings... (e.g. you can purchase 100 games, and until they are all used, your employees can freely book any game at any time. Or HR can arrange your teambuildings with greater control directly within your new system)
Games can be played around the clock
Games are run in English and German language
How is this beneficial
to your business?
You can offer a top virtual teambuilding activity under your own brand
A cool and fresh interactive challange for all your colleagues and partners
Motivational and fun for your employees
Improves communication and collaborational skills
Fosters creativity and problem-solving
Helps with team bonding during Home Office work
Connects your colleagues, no matter how distant apart, because it can be played from anywhere in the world
Lifts team spirit and makes great memories
Highly cost effective when compared to the value of the product
Our VIP Branded Online Escape Rooms
are perfect for:
Companies of all sizes
Companies effected by Covid
Companies operating at different locations
Conference and conventions
HR specialists
Assesment Centers
How to start?
Just contact us and we'll get in touch with you in a few hours.
We only need your logo. Once we have it, we can start
developing your system, which takes between 2 - 4 working days.
We will create your new website, booking system, and game interface
We will also create a tailored confirmation email, with your included text and information.
Once the system is ready and deployed,
it's yours to use forever.